A Backup Plan Made For Your Website and Emails
Backing up your data could not be any more simpler, R1soft Restore Backups continuously makes copy of everything on your website and email files with a 14 days retention period. Backup is done daily and you can easily access any specific files to perform the one click restoration function. R1soft Restore Backups is here so you never have to worry about losing any of your important hosting files again.
Daily backups with 14 days retention
Entire website files is backed up
Individually restore HTML, CSS, PHP or JPEG files
Restoration process can be done in just one click
Daily backups with 14 days retention
Entire email files is backed up
Specifically restore Read Emails, Unread Emails or Sent Emails files
Restoration process can be done in just one click
* Kindly Login To Your Client Area To Purchase Your Web Hosting Restore Backups
The Features of R1Soft Backup
R1soft allows users to feel safe knowing their files are being backup automatically. Users can also restore older files just with a simple few clicks. This flexibility gives users the confidence doing their daily tasks without worrying about data loss.
Users files will be automatically get backup whenever the day ends. Your latest updates and changes will get saved every day, which in turn allows users to choose which files to recover if necessary.
Users can choose to restore current files with specific version or files of their choice. Browse for files needed from R1soft dashboard and just hit the restore function. It is that simple!
14 Days! Users files will be kept for 14 days before they get replaced with new files. Older files which have met the 14 days timeline will be deleted and get replaced with newer files first prior to others.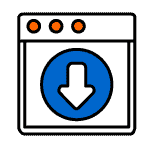 If users want to increase security, they can choose to download their files to their device of choice. By doing so it allows users to have instant offline access to their files.
Send files to another server to help authenticate your backup. This also includes a step by step guide on how to restore the files. This feature will make sure that the authentication is true before proceeding further.
* Kindly Login To Your Client Area To Purchase Your Web Hosting Restore Backups