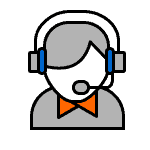 What is Web Hosting?
Web Hosting is an internet hosting service that provides file storage space. It enable a website to be viewed in the internet. Individuals or organizations are able to host and store their website files using web hosting provider's resources through special computers called servers.
Web Hosting service providers are business entities that provides website hosting services. These service providers provide all the technologies and tools needed for a website to operate.
How long have you being in business?
We have been in the web hosting business since year 2001 and have received numerous awards and accolades over and over again.
Where are your servers hosted at?
Our servers are hosted in Telstra Singapore Data Center (SGCS2) and Denver Tech Data Center, United States
Do you provide any guarantee?
Yes. We provide 100-Day Full Money-Back Guarantee, 99.5% Server Uptime Guarantee and 99.9% Network Uptime Guarantee.
Tell me more about the infrastructure of Exabytes.
We use the best hardware on the market. With your website/server hosted in a premium Data Center (in terms of service and location), we're confident in providing guarantees such as 100-Day 100% Money-Back Guarantee for Shared Hosting, 99.9% Network Up-time Guarantee and more.