Three months has lapsed since we bid farewell to year 2011. However, we are still not able to forget a selfless angel who dedicated...
Ever wondered the purpose of blogging? Besides sharing great content to your audience, it is also a great way to make extra money online....
A new model of Management Pat Crull Chief Learning Officer of the year at Time Warner Cable said: "in past economic recoveries we always...
We're back after a wonderful week of ang pows collecting, stomach stuffing and fire-crackers blasting from the recent CNY celebration! This year, we welcome...
Short Update! It's been 2 wonderful weeks in Washington, but unfortunately, all good things will come to an end. Sighs. We will be heading back...
Words must be spreading out fast like fire among all of you about our trip to Penang Hill recently because since we posted our...
As we will soon be leaving 2014 behind and usher in the coming year, Exabytes would like to take this opportunity to wish everyone...
Dear readers, Chinese New Year is just 1 week away! Exabytes would love to take this opportunity to wish all of you a great year....
Now who says all those years of chatting online with your friends do not serve you good? Who says speed-typing does not matter? Well...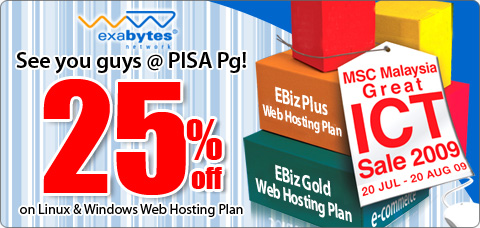 Our next stop during  this MSC Great ICT Sale will be at PISA Penang. Come and visit our booth. Special discounts await you!
Yeah, this year we had theme of the night! It's for the first time that we had theme of the night. For the past...