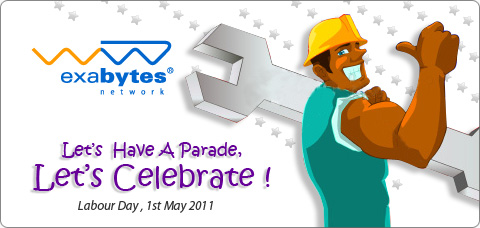 Labour Day is celebrated in Malaysia on 1st May every year. Thus naturally many of us are under the impression that Labour Day falls...
Many entrepreneurs are looking for ways to take their business online. Building your brand online from scratch is no easy task. The Internet is a...
Create New Email Account Using Your Own Domain Name Yes, you can be using Gmail/Hotmail/Yahoo and other free email services for your work. But when...
Does anyone here believe in Karma? Do you think that when you do good, something good will find its way back to you? As...
PLESK control panel- More Admin Benefits, Setup VPS can be even easier. The goal of web experts designer is to help business owner properly set...
Responsibilities:To provide technical assistance to clients for products & services offered by Exabytes To provide guidance to clients for products & services...
Whether you run your own business, work as a part-time blogger or a content manager for a large company, maintaining a multilingual website can...
Radix, one of the world's largest portfolio registries, today announced that its nTLD .SITE has surpassed 1 million domains under management. This makes Radix...
Boo! Halloween is just around the corner and it's time to put on a scary costume, go for trick or treats and lighting jack-o'-lanterns!And...
Do you have only a sketchy knowledge of ASP.NET and you wish to learn more about it? Now here's your chance. Exabytes is going...
What is affiliate marketing?If you are new to this, read on. Affiliate marketing is a common way people make money online. It is...