Yeah, this year we had theme of the night! It's for the first time that we had theme of the night. For the past...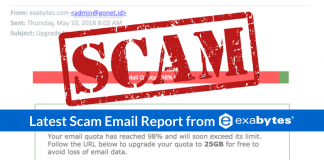 We've received another Scam Email that aims to deceive Internet users using the name of Exabytes. Have you received the same scam email? If...
We have actually received some enquiries from you guys who are facing difficulties in choosing a suitable web hosting plan. Your requests are heard,...
Oh wow, where does the time go? Before we know it, it's Easter already! Easter is the time of springtime festivals – a time to...
Have you ever wished you could fly together with Tinkerbelle when you were a kid but never got the chance to? Yes, you know,...
Attractive Design The blog design is the first thing people see. The design should be special and attractive, although it should not consist too much...
Yes, the secret is out and it's time to announce yet another deserving star for this month! This time around, witness the power of...
WordPress has been around in the past decade and is best known for its practical and highly functional features. Initially only popular among...
Believe it or not, the moment we have been waiting for is finally here! We have finally moved into our new Suntech office, the...
It is the BEST time to register a .Asia Domain as Exabytes is now having a HUGE promo which is the SUPER BUNDLE Package...
It was a fun night for the KL Exabees last Saturday. We've been planning for quite some time for a nice team building ever...